The creator of this post has chosen the Apple Watch Series 4 as the best smartwatch with a built-in ECG sensor.
The electrocardiogram (ECG) is a diagnostic tool that's been growing in use rapidly over the past time and as of right now it's one of the most commonly used medical tests in modern medicine.

There are even several smartwatch models available that have an electrocardiogram sensor built-in.

In this article, I'll walk you through the top 5 quality smartwatch models that have an ECG sensor built-in.
Comparison Table
Screen Size Of 1.78-Inches.

Up To 18 Hours Of Battery Life.

Screen Size Of 1.4-Inches.

Up To 18 Months Of Battery Life.

Screen Size Of 1.22-Inches.

Up To 5 - 7 Days Of Battery Life.

Screen Size Of 1.3-Inches.

Up To 10 Days Of Battery Life.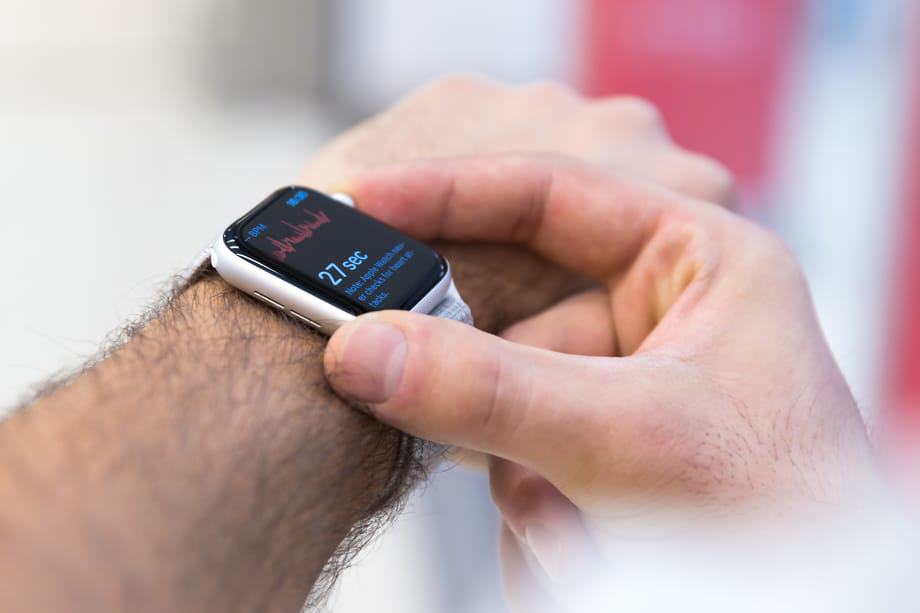 Quick Navigation
The Apple Watch Series 4 brings a huge reengineering and redesign to the table.

It's more powerful with an all-new display, enhanced health and fitness tracking, a neat walkie-talkie feature, and much more.

The watch runs on the new WatchOS 5 operating system and comes in a 40-millimeter or 44-millimeter case offering a modular watch face with more graphic detailed information than ever before.

One of the biggest, most wanted features released with the watch is the ability to take electrocardiogram (ECG) measurements of the heart's electrical pulses.

This allows the user to keep an eye on their heart health, and if needed, they can alert their medical practitioner about anything strange they've noticed.

The American Food and Drug Administration (FDA) has approved this feature.

The colors that are available for the device include three aluminum finishes: gold, silver, and space gray. You can also choose gold stainless steel.
The new bands will work with any of the previous watches that are available. The versatility in size and style makes this smartwatch a great unisex choice.

The back of the watch is made of sapphire crystal and black ceramic, which will help improve cell reception for users.
>>> Check the customer reviews about the smartwatch on Amazon <<<
Specifications
The watch runs on a 64-bit dual-core processor, which performs much faster than previous versions.
The gyroscope and the accelerometer also have twice the dynamic range.
The speaker has been improved, making it 50% louder for your enjoyment.
The microphone has also been moved to the opposite side of the watch, enabling clearer phone calls with less feedback.
The design has been altered to bring more functionality and the user experience has become more pleasurable.
Curved corners allow users to view imagery in a more simplified way as the surface extends further.
The digital crown, which is now 30% smaller than the previous version, enables simplified navigation that doesn't get in the way of the display.
The mechanism has been redesigned for the watch delivering a click-like feel as you scroll.
The optical heart sensor, which lets you take measurements of your heart's pulses, has been improved to detect if your heart rate falls below a specified measurement.
The battery life is still quite long for those who are always on the go and need to be able to depend on long battery life. It's an incredible 18 hours on a single charge.
In addition, the S4 chip processor allows the watch to pack tons of incredible features and capabilities, despite it being small and slick.
It's a complete System in Package (SiP), making the Apple Watch Series 4 the only product available on the market that runs on a SiP.
Check out the price of the Apple Watch Series 4 Smartwatch on Amazon.
The Withings Move smartwatch is a highly customizable option for anyone looking to get started with health and fitness activity tracking.

It's lightweight, slick, and small design is perfect for those looking for something that's more minimalistic.

In fact, it's almost not comparable with a normal watch.

The standard software ecosystem of the watch requires you to install the app on an iOS or Android device.

You can track a range of important metrics, from counting steps to monitoring sleep quality with the help of a built-in three-axis accelerometer.

Although the Withings Move smartwatch is currently available with a plastic case, the company has mentioned they will be releasing a stainless-steel option later.

Plus, they're most likely releasing quite a few new designs as well as time goes on.

The current design is timeless and unisex, which makes it great for anyone of any age, gender or style.
If you're looking for a trendy, sophisticated smartwatch, the Withings Move Smartwatch doesn't disappoint.

Its 38-millimeter design is perfect if you're not looking for a bulky or large smartwatch.
>>> Check the customer reviews about the smartwatch on Amazon <<<
Specifications
There are five different color options where you can choose from and plenty of bands to switch up your look and suit a variety of outfits. The colors range from basic black and gold to more exciting options like coral and white.
The battery life is impressive, coming in at a staggering 18 months on a single charge, which means you never have to worry about the battery dying when you need it the most.
The storage gives you free and unlimited online data storage with an account that's allowing you to keep track of a range of photos, data, and other important memories.
The watch is compatible with any iPhone, iPod Touch or iPad that's iOS 10 or later, as well as any smartphone or tablet that's Android 6 or later, as long as you've installed the required app.
The multisport tracking functionality allows you to automatically record any activity during your fitness workout or when your walking, running or biking. Simply launch a workout session to get duration, elevation, and more metrics mapped.
The sleep tracking features let you automatically track light and deep sleep cycles, as well as sleep quality and duration, to find out how restorative your night's sleep has been and provides you with information for improvements.
Wrapping up this watch
The Withings Move Smartwatch is a classic watch housing an advanced and comprehensive activity tracker.

It's a great choice for those who want simplicity in terms of capabilities, along with a timeless design that suits any preference.

You'll find your activity shown directly on the dial with the watch's third hand.

If you want something that does the job and doesn't need to be charged every day, this is a great option for you.
Check out the price of the Withings Move Smartwatch on Amazon.
3. Cronovo Smartwatch
This one brings three critical technologies into a single, attractive watch: the smartwatch functionalities, a personal health device, and a fitness tracker.

It's ultra-portable and user-friendly so every user, regardless of age, can benefit from the device.

There's even a built-in microphone that allows users to record symptoms or metrics that should be discussed with a medical practitioner making it incredibly easy to get the most possible health benefits from using the device.

This device can track a lot of information, from the autonomic nervous system to blood flow and from heartbeats to breathing and everything in between.

The VoFit App is used to keep track of all this data, as it's a lot of information for a single person to keep track of.

This makes it simple to achieve your health and fitness goals with the right information on hand.

Just open the app and everything you need is there for you to review.
Specifications
The watch comes in a variety of styles to suit every user's personal preference, including the silver edition, gold limited edition, black edition, and leather edition. All options are classic and attractive.
The electrocardiogram (ECG) capabilities will capture data to detect heart rate variability, stress levels, fatigue levels, driver drowsiness, and other vital information.
The watch goes above and beyond simply tracking data. It can, for example, make a personal 10-week fitness plan to help users achieve specific goals. You'll get specific workouts and other necessary tips.
The accompanied cooking app will give the user ideas for creating a properly balanced diet plan. You'll receive thousands of easy to follow recipes that are voice-based for optimal convenience while cooking.
The built-in remote control is universal to work for TVs, audio systems, air conditioners, heaters, and various other major systems. You can even manually program the remote control to work for your own device.
The powerful Mediatek processor, along with the dual-core 1.2 GHz Cortex-A7, brings a huge amount of power to the watch. Plus, you'll get 512MB of RAM memory and 8GB of internal storage.
The battery life is a shocking 3 days long, which is a huge amount when you consider all the features the watch has. Because of the long battery life, you won't have to charge the watch as often.
You can choose from thousands of watch faces, ranging from digital to casual and from dynamic to classic, giving you the ability to mix and match depending on your mood, style, and various other needs.
Regardless of which watch face you've chosen, you're able to set it to ambient mode, which saves battery life while you're not using it.
4. N58 Smartwatch
The N58 Smartwatch is a solidly built device that's made to withstand wear and tear while remaining incredibly easy to use.

The watch gives a highly accurate reading of various important metrics, including, for example, your heart rate variability.

It has a 22-millimeter strap that's able to fit all users, and it's slick and convenient design lets you move freely with ease.

The N58 Smartwatch features a range of practical colorful icons that showcase important information from heart rate detection to ECG detection to sleep detection and all sorts of metrics.

Users will be able to record steps, distance, calories, and all the fitness information they need to live their life as healthy as possible.
You can adjust your fitness program and bring up important information for your medical practitioner as needed.

It's fashionable yet functional, the best of both worlds for those looking for a great smartwatch.
Specifications
The watch allows you to easily respond to reminders and keep track of reminders as all important information is synchronized from your mobile device, including phone calls, messages, and more.
The magnetic charging capability makes the head and bottom area of the watch automatically pull together, which simplifies the process of charging the device.
The tracking abilities are designed to help you reach your fitness goals. Users can track activity while walking, running, weight training and during cardiovascular workouts.
The watch is IP67 level waterproof and dustproof to keep it protected during rainy weather or when it's left on a bedside table. Users can rest assured knowing the watch will remain in good condition.
The sleep monitoring functionality gives you the ability to track sleep quality and make improvements to your daily routine, in order to ensure you're getting enough sleep to meet your health goals.
The ECG analysis is incredibly accurate, giving you a clear look at your blood pressure, heart rate, and more. The information is easy to read and can be accessed and reviewed at any time.
Wrapping up this watch
The watch is crafted out of steel with A-level vacuum coating technology to keep it durable, strong, and solid while remaining attractive for those wearing it.

The watch is designed to keep you in the loop, which means you're able to leave your smartphone at home whilst still receiving all the alerts you would need.
This one is an attractive and minimalistic smartwatch that lets you capture data in real time.

The data will sync to the app after it's captured, so you'll be able to access and view the information anytime you like via the cloud.

The Colmi Smartwatch is compatible with the iPhone 4S and newer devices, as well as Android 4.3 devices and up.

It's available to be used in multiple languages so everyone can benefit from the device.

For those looking for a smartwatch with longer battery life, the Colmi Smartwatch is a good choice as it boasts 10 days of battery life.

This means you never have to worry about being caught without any battery power while you're out and about.
If the smartwatch is in standby mode, the battery will last a staggering 30 days before requiring you to charge it again.

It's also IP67 level waterproof and dustproof, which gives you peace of mind while walking in the rain with the watch on your wrist or perhaps if you drop your watch somewhere, where it's very dusty.
>>> Check the customer reviews about the smartwatch on Amazon <<<
Specifications
The watch is equipped with powerful, updated smart sensors for improved recording of information relating to sports like fitness, and much more.
The ECG measurement capabilities will automatically capture information, generate a health report, and store everything in the cloud for viewing when necessary.
The WearHeart App lets you share your fitness and health information with friends and family you choose to add. You can also view their fitness and health information, allowing you to create a supportive community.
The multi-sport mode lets you gather information during any physical activity, from climbing to walking and from badminton to basketball and everything in between, getting the most accurate information possible.
The motion management feature gives you real-time data on steps, calories burned, distances, and much more, which means you can set and achieve goals as desired.
The watch enables you to easily respond to reminders and keep track of reminders. Phone calls, messages, alerts, and more will be automatically synchronized from your mobile device to your smartwatch.
In addition, the smartwatch will remind you if you've been sedentary for a long period of time. You will feel the smartwatch vibrate to remind you to get up and move. This makes it simpler than ever before to keep active and stay fit.
Plus, you can set reminders to drink water or take your medication multiple times a day as needed. This means you never have to worry about forgetting important parts of your health and fitness routine.
Check out the price of the Colmi Smartwatch on Amazon.
Comparison Table
Screen Size Of 1.78-Inches.

Up To 18 Hours Of Battery Life.

Screen Size Of 1.4-Inches.

Up To 18 Months Of Battery Life.

Screen Size Of 1.22-Inches.

Up To 5 - 7 Days Of Battery Life.

Screen Size Of 1.3-Inches.

Up To 10 Days Of Battery Life.